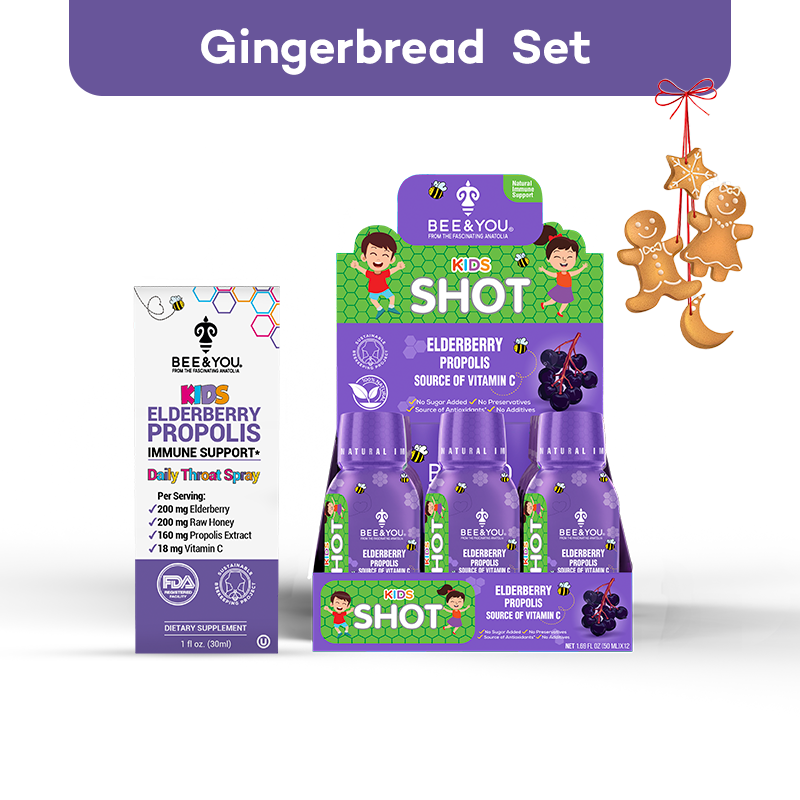 Gingerbread Set
inkl. 19% MwSt. zzgl. Versandkosten
Who we are?
Woman Entrepreneur and Food Scientist Dr Asli Samanci needed to find a solution to her son's weakened immune system. A Pediatrician recommended that she try giving her son propolis. She started production of propolis for the first time for her son and subsequently developed a patented propolis extraction method. Based on this experience, she founded BEE&YOU to help those who want to support their immune system naturally.
How do we produce our products ?
This product is produced by our "Contracted Beekeeping" model to assure the highest quality, and traceability from our hives to your table. Our products are also tested for their purity, antibacterial activity, antioxidant activity and compliance with food safety standards. Our facility is GMP (according to Code of Federal Regulations Title 21 Part120 FDA and Part111 FDA), BRC (Global Standard for Food Safety), IFS Food, ISO 22000:2018 (Food Safety Management System), ISO 9001:2015 (Quality Management System), OU Kosher and Halal Certified. Our latest accredited third-party (by DQS CFS GmbH in Germany) audit IFS Food score is 98.06 over 100. We support beekeeping and beekeepers! Help save the Bees and Nature! Each time you buy a product, certain amount goes directly to beekeepers to help improve their business.
What is Anatolian Bee Propolis?
Propolis is a natural bee product that honeybees collect from the leaves, buds and stems of the plants. Honeybees use propolis to protect their beehive from fungus, bacteria, and viruses. It acts as a natural protective barrier. We source our propolis from pristine Anatolian mountains which are home to 12,000 different plant species and one of the most biodiverse regions in the world. BEE&YOU has a patented extraction technology which enables us to extract all biologically active compounds (phenolics, flavonoids, minerals, vitamins, enzymes) of propolis to make bioavailable for our body. Mainly 2 things completely differ our propolis quality from any other propolis on the market; the region where we source our propolis (Anatolian region rich in 12,000 different plant species) and our patented extraction technology. Our propolis has minimum x3 more of phenolic, flavonoid and antioxidant content than any other propolis and Manuka Honey on the market. Our propolis has at least 80 times greater antioxidant content than pomegranate juice! Anatolian propolis extract contains a minimum of 15 different phenolic and flavonoid compounds and each of them has different health benefits!
WHY BEE&YOU PRODUCTS ?
Extraction & Team of Experts: BEE&YOU has patented extraction technology and founders have more than 50 years of academic and industrial experience. Therefore, our propolis has x3 more antioxidants than other propolis and x100 than manuka honey.
Award-winning bee products: Our bee products, made with an award-winning and patented extraction process, have earned over 50 international awards.
Contracted Beekeeping: Faire Trade and Sustainable production to ensure that the products are pesticide free, chemical free, heavy metal free and 100% Traceable
Area: Our beehives are placed at the pristine Anatolian mountains which are home to 12,000 different plant species. These plants create the special nectar, resin, pollen, and water which the bees feed from. These special properties are what make our propolis, raw honey, bee pollen and royal jelly so exceptional and healthy.
Real Story: Founding story of BEE&YOU (desperate mother produces these miracle products for his son's low immunity problem) provides a strong emotional tie with our customers.
We love bees and nature: Help Save the Bees and Nature! Each time you buy a product, a certain amount goes to beekeepers as beekeeping equipment and beehives to support their business.
BEE&YOU products are Gluten-Free, Non-GMO, No Artificial Flavors, No Added Sugar, No Preservatives. Our products are also tested for their purity, antioxidant activity, antibacterial activity, and compliance with FDA and CODEX regulations.
BEE&YOU Facility is periodically audited by third party accredited organizations such as BRC, IFS, ISO and the last audit score is 98.06 out of 100. BEE&YOU is GMP, BRC, IFS, Kosher, Halal, ISO 9001:2015, ISO 22000:2018 and HACCP certified.